Managed IT Monitoring & Management
Solve your toughest IT management problem, today.
You're the expert. Let us help you prove it.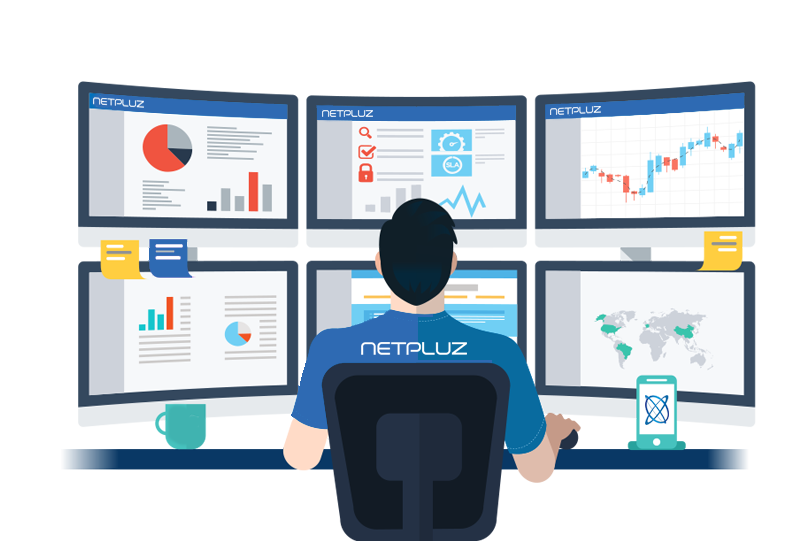 In today's Information Technology (IT) space, IT management spreads across many different divisions within the organisation and across many different job functions. Many factors come into play within IT management – from managing a network to controlling IT assets. IT Personnels are tasked with getting the most from their IT systems.
Netpluz IT Monitoring & Management, partnered with Solarwinds, helps organisations succeed through effective governance, compliance, strategic planning, financial management, and risk analysis.

Explore features that deliver enterprise-strength fault and performance management at an affordable price. Contact us and discover how Netpluz IT Monitoring & Management Solution simply manages networks of all sizes with expandable modules and scalability engines.
NETWORK MANAGEMENT
Network management refers to the activities, methods, procedures, and tools that pertain to the operation, administration, maintenance, and provisioning of networked systems. Networking is a major part of IT infrastructure because it includes monitoring systems for incidents, optimizing network performance, or simply managing the network.
Leverage on Netpluz Managed IT Monitoring & Management Solution to monitoring your network's operation and keeps it running smoothly, by tracking of all your resources within the network, performing repairs or upgrades, and configuration of resources for provisioning.
Network Performance Monitor
Built by Network Managers, for Network Managers.
Simplifies diagnosis – before outages occur
Tracks response time & uptime of routers
Shows performance statistics in real time
Includes out-of-the-box dashboards
Systems Management Bundle
Complete systems monitoring built for you.
Other Managed Cyber Security Services
Contact us to take this conversation further!