Netpluz DNS Protection
Patching DNS Vulnerabilities – Protect Mission-critical Online Services
Netpluz DNS Protection protects mission-critical online services from DNS attacks. Our dedicated, fully redundant network of globally distributed proxy servers resolves every incoming DNS query quickly and reliably, ensuring your DNS server is protected from both internal and external attacks.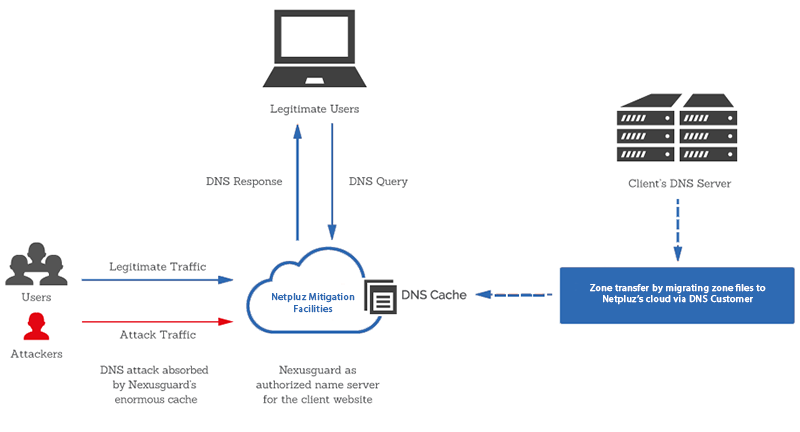 Partnering with Nexusguard, a long-time leader at the forefront of the fight against malicious internet attacks, Netpluz DNS Protection service enables businesses to focus on key strategic activities, instead of dealing with complexities of cyber security compliance, giving our customers a peace of mind when connected to Internet.

Netpluz acts as the authoritative server on behalf of your DNS server. Leveraging Anycast technology and redundant caching, our solution performs load balancing across our high-performance, global DDoS Mitigation Network. DNS Protection can filter out and absorb all DNS attacks and malicious traffic, including:
DNS Amplification
NXDomain
Phantom Domain
Random Sub-domain
Look-up Domain
Features & Benefits
Sensitive Information 
Netpluz does not cache DNS records, so attackers can't snoop for sensitive information.
Zero Dynamic Threats
Dynamic updates are not permitted, eliminating all dynamic threats.
Privacy
Fingerprinting tools such as fpdns, Nmap, and Nessus are blocked and cannot be used to identify any information about your software or operating systems.
Full Control
End-customers have full control over the DNSP service and configuration through the Customer Portal, reducing workload in ongoing operations.
Simple, Intuitive Steps
Simple, intuitive steps allow you to securely replicate, synchronize, and transfer (AXFR) all copies of the zone used at the Origin DNS server to Netpluz's DNS cache.
Learn more about Netpluz DNS Protection Service.
Contact our security experts today.
[/vc_row]
Other Managed Services you might be interested in:
Contact us to take this conversation further!