MANAGED WEB APPLICATION FIREWALL (WAF)
Part of DDos protection, Netpluz Managed Web Application Firewall (Managed WAF) provide businesses with a cloud based, simple and cost-effective solution to monitor all the raw data coming into your server, identifying all potential threats, and blocks any data identified as being malicious and unsafe.
As businesses is transforming digitally, creation and sharing of sensitive information in confidence is critical to your organization. Your web applications will be under threat constantly from hackers who will target your critical customer data, personal details, and financial information such as credit card details and passwords. It is more important than ever for organisations to secure their web applications and online assets.
If your business accepts credit card payments through your web assets on a payment gateway, or even providing e-services such as customer log in portals, you will need a Web Application Firewall to safeguard and build resilience against cyber attacks.
HOW IT WORKS
The multi-layered mitigation platform is purpose-built to identify, mitigate and analyze attacks effectively. The mechanism is based on two methods of protection, in which signature-based detection is complemented by statistical behavior analysis. Deployment is easy and quick. Proxy can be set up using DNS forwarding. Proxy mode supports any application running TCP or UDP such as HTTP, HTTPS, SIP, FTP, DNS, and more on either IPv4 or IPv6. It is especially useful for those preferring minimum network changes and do not control a full public Class CIDR/24 network, or those who simply need protection on individual applications.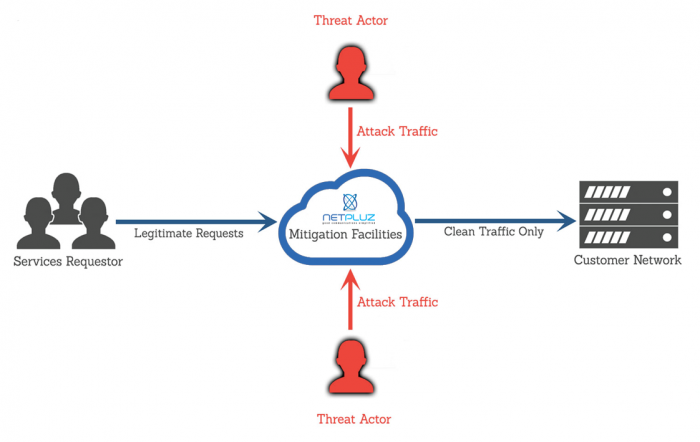 Partnering with Nexusguard, a long-time leader at the forefront of the fight against malicious internet attacks, Netpluz Cloud based Managed Web Application Firewall (WAF) service enables businesses to focus on key strategic activities, instead of dealing with complexities of cyber security compliance, giving our customers a peace of mind when connected to Internet.

FEATURES
East installation, fast deployment
Multi-layered Mitigation – Protection against Layer 3,4,7 and Hacking attack
Protects against Open Web Application Security Project (OWASP) Top 10 Common Vulnerabilities  
Ensures secured access for end users
Continuously tuned custom security rules
Botnet protection
Automatic virtual patches
Mobile SDK designed for IoT makers to protect mobile apps
Progressive challenge-response (C/R) authentication
24x7x365 Security Network Operation Center
24x7x365 Helpdesk Support
Leverages load balancing and caching to ensure fast content delivery and network resilience. 
Static / Dynamic content caching
Global Server Load Balancing
NETPLUZ SECURITY SUITE VALUE PROPOSITION

DIFFERENTIATION
Managed Services
OPEX model – Reasonable and affordable monthly payment
Supported by highly qualified and experienced Cyber Security professionals
Monthly Reporting
24×7 Proactive Network Monitoring
Email Alert Notification
Security Operations Center Support
Service Guarantees
Service Uptime
Provisioning and Service Response
Contact us to take this conversation further!
Other Managed Cyber Security Services