On-Demand Webinar | Simplifying Cloud Connectivity with Secure SD-WAN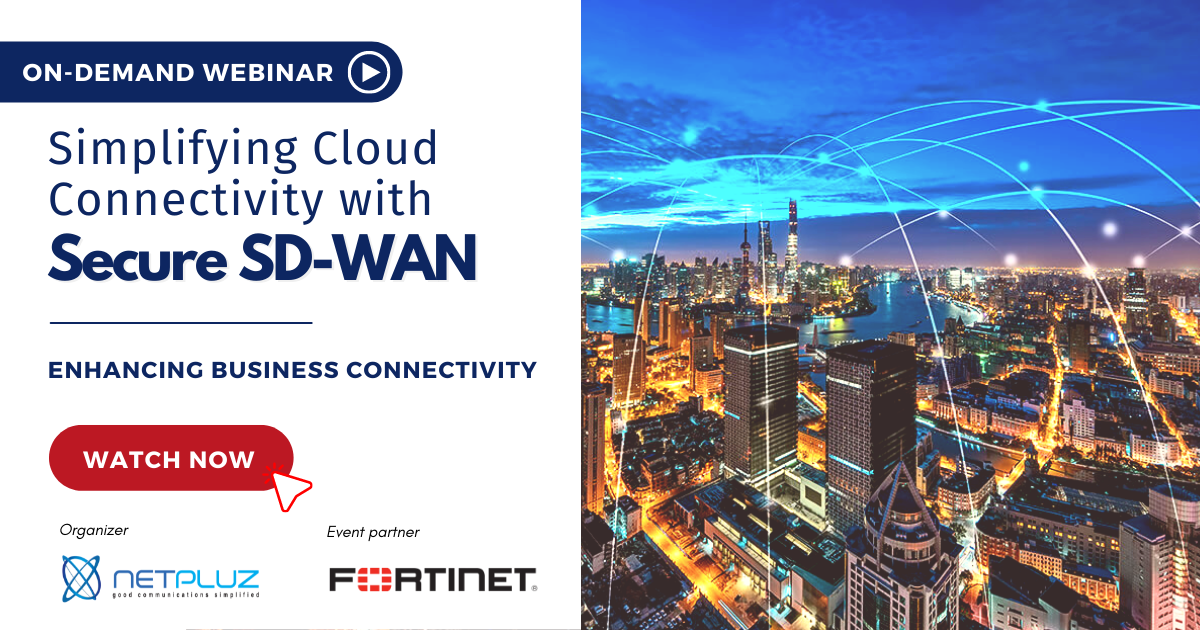 Simplifying Cloud Connectivity with Secure SD-WAN
Explore Secure SD-WAN with Netpluz Asia to deliver fast, scalable, and flexible security-driven networking for cloud-first, security-sensitive, and fast growing business
Small and medium-sized enterprises (SMEs) that operate from multiple locations or branches often find themselves relying on low bandwidth internet connections to access their corporate applications or data.
Software-defined wide-area networking (SD-WAN) is rapidly replacing traditional WAN for remote office and branch deployments. While SD-WAN offers performance benefits that support new digital innovations, many SD-WAN solutions lack consolidated networking and security features. In response, many network leaders have had to add a complex assortment of tools and solutions to manage and protect their SD-WAN deployments. Instead, they need a simplified approach to contain costs, improve efficiency, and reduce risks. 
Watch Rueburn Liang of Netpluz Asia, and Chin Ping of Fortinet to discover the reason how SD-WAN automates network traffic over private, wireless, and broadband connections, and provide SMEs with a cost-effective and secure cloud-based WAN connection.
Fortinet Secure SD-WAN the #1 in 2021 Gartner® Critical Capabilities for WAN Edge Infrastructure

In the 2021 Gartner® Critical Capabilities for WAN Edge Infrastructure, Fortinet ranked #1 in the Remote Worker Use Case, a new addition to the report this year.
The Traditional WAN Challenges
Security Concern

Deploying any new WAN technology can introduce unintended

Unpredictable Performance

Prioritizing data over VPN between branches is difficult and causes performance challenges of key applications

High Cost

Traditional WAN, especially MPLS, requires a single provider to access many sites that involve higher costs.

Troubleshooting Issue

If there are issues in the network, it is difficult to pinpoint the exact cause due to their broad coverage of geographical areas.