Channel Asia named Netpluz Asia as Finalists at Innovation Awards 2021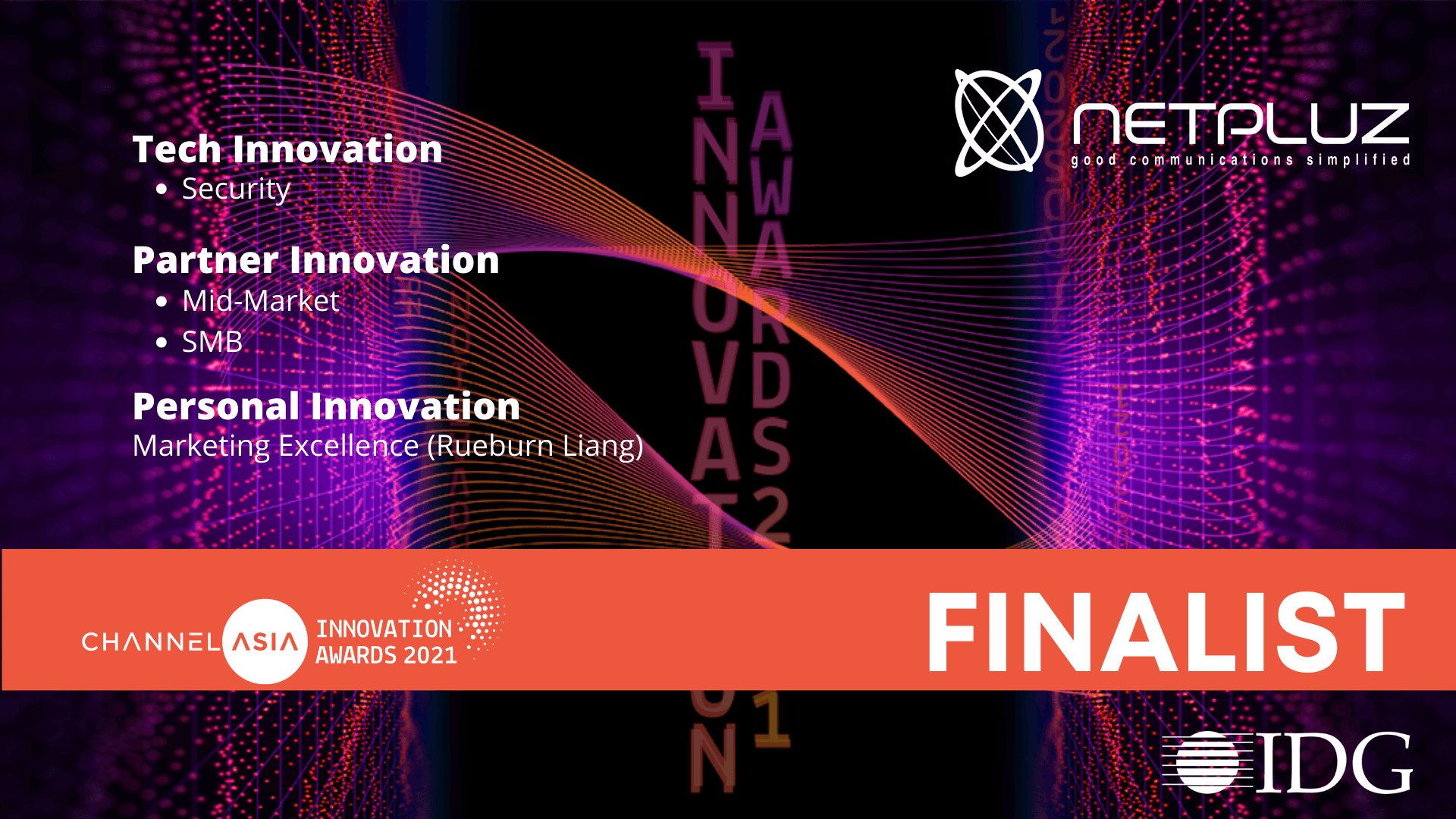 October 27, 2021
News & Press Release
Channel Asia is proud to announce the finalists of an enhanced Innovation Awards in 2021, housing the largest celebration of ecosystem excellence in delivering transformative customer solutions across Southeast Asia.
Representing the entire ASEAN ecosystem, more than 220 finalists (including 65+ individuals) make the shortlist from a pool of over 90 organisations and more than 300 nominations, spanning partner, start-up, telco, vendor and distributor businesses.
"Channel Asia congratulates Netpluz Asia on becoming a finalist in the enhanced Innovation Awards," said Cherry Yumul, vice president of Strategic Partnerships and Innovation at IDG.
"ASEAN is once again brimming with inspiring examples of innovation yet crucially, underpinned by stoic levels of resilience."
"This is a market continuing to overcome ongoing COVID-19 lockdowns and restrictions – some of which have been in place for more than 18 months – while battling some of the worst outbreaks of infections and encountering the most devastating societal and economic implications in the process.
"Yet this is a market which presses on unperturbed, raising the bar for industry excellence through the deployment of bleeding-edge technologies and solutions. Two words perfectly illustrates the DNA of the ASEAN technology ecosystem – tough and transformative in equal measure."
TECH INNOVATION

Netpluz Asia is named as a finalist in the category for SECURITY.
The Tech Innovation Award recognises partners leveraging established and emerging solutions to enhance customer innovation levels, underpinned by deep levels of expertise and specialist services.
PARTNER INNOVATION

Netpluz Asia is named as a finalist in the two categories for MID-MARKET and SMB.
Partner Innovation recognises customer innovation and excellence across the key market segments of Enterprise, Mid-Market and SMB, in addition to pioneering technology specialists and collaborative providers.
PERSONAL INNOVATION

Rueburn Liang, Marketing Director – Netpluz Asia, is named as a finalist in the category for MARKETING EXCELLENCE.
The Personal Innovation Award recognises standout individuals who contribute to customer, company and channel success through a transformative approach to management, channel, sales, technical and marketing positions.
---
In 2021, Innovation Awards will honour the channel across eight categories, spanning Partner Innovation, Tech Innovation, ASEAN-wide Innovation, Start-up Innovation, Personal Innovation, Vendor Innovation, Distributor Innovation and Hall of Fame. 
In streamlining the program, the aim is to increase focus on the pace-setters of the local market, those revving up the innovation engine and powering ahead in the delivery of transformative solutions and services.
Reflective of a diverse technology network, finalists range from large-scale multinational consultancy firms to emerging start-ups, alongside leading system integrators, managed service providers and solution consultants, plus cloud specialists, independent software vendors, boutique agencies and application developers. This is in addition to channel-centric vendors, telecommunications providers and supply chain experts.
Within this standout group, finalists are located across the entire region, spanning Singapore, Malaysia, Indonesia, Philippines, Thailand, Vietnam and Hong Kong.
Collectively, Innovation Awards in 2021 stands tall as the leading forum for setting the industry benchmark for ecosystem excellence across ASEAN.
"Customer innovation is no longer a marketing slogan, rather a refreshing reality in ASEAN given the wealth of transformative projects and examples of best practice featured in 2021," Yumul added. "Enormous credit to the market-leading companies and individuals continuing to press ahead in helping customers innovate at pace – despite the notable difficulties – which once again demonstrates the depth of transformation taking place across the region. Congratulations Netpluz Asia and Rueburn, nothing can stop your pursuit of excellence."
The winners will now be selected by an executive panel of industry judges – acknowledging creativity, innovation and excellence – before being announced at virtual celebration event on Thursday 2 December.
Channel Asia article: https://www.channelasia.tech/article/692053/asean-excels-channel-asia-unveils-finalists-enhanced-innovation-awards/
Channel Asia Innovation Awards website: https://www.channelasia.tech/innovation_awards/
Virtual Event Registration Link: https://www.airmeet.com/e/49c29d50-2bec-11ec-ba70-9569be2f9b5b
About Netpluz Asia
Netpluz Asia (www.netpluz.asia) is a transforming Managed Communications Service Provider that helps clients become more agile by simplifying their Information and Communications Technology (ICT) needs. Netpluz Asia has evolved from an internet service provider to providing Managed Data, Cloud, Cybersecurity, Voice, Video and Mobility services to over 2000 clients over a single, converged network with uncompromising availability, scalability and service standards.
Media Contact
Rueburn Liang, Marketing Director
Contact: +65 6805 8917
Email: rueburn.liang@netpluz.asia