eSentinel™ approved by MAS Singapore for Security Related Solutions under Digital Acceleration Grant (DAG)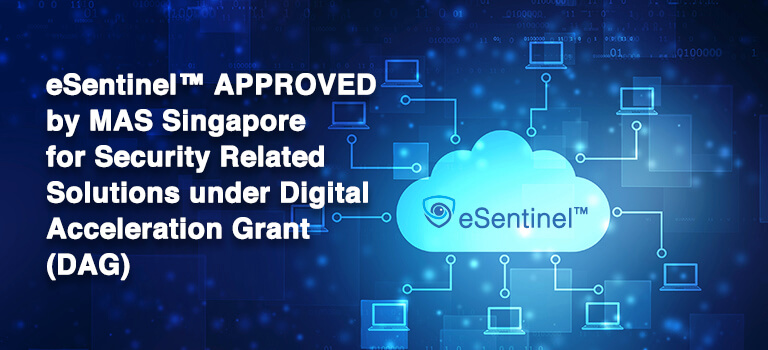 May 11, 2021
News & Press Release
eSentinel™ approved by MAS Singapore for Digital Acceleration Grant (DAG)
Netpluz Asia is thrilled to be named an approved vendor by MAS for eSentinel™, our born-in-the-cloud 360° cybersecurity solution, as part of the general solutions – security-related solutions. Organisations can now get up to 80% co-funding for the implementation of eSentinel™ to strengthen your IT Infrastructure & Data security.
In 2019, the global economy has experienced the disruptive effects of the global Coronavirus pandemic and Singapore was no exception. It was one of the hardest hits in Asia. Companies were forced to active business continuity plans, such as remote work for the first time and many were not prepared for it. The financial sector, like so many others greatly affected, was forced to adapt quickly in order to remain operational throughout this time.
To assist companies in the financial sector, the Monetary Authority of Singapore (MAS) introduced a SGD 125 million support package. Out of SGD 125 million support package, SGD 35 million were designated for strengthening and accelerating the digitalisation and operational efforts of these industries through the Digital Acceleration Grant (DAG).
DAG scheme aims to help Singapore-based smaller financial institutions with less than 200 employees, to adopt digital solutions to improve productivity, increase efficiency, enhance operational resilience, manage risks, and serve customers better.
Working with Netpluz Asia, you can get up to 80% co-funding to implement eSentinel™ to strengthen your IT Infrastructure & Data security,  Cybersecurity Operations as well as Periodic Cybersecurity Assessments, under a true single pane of glass reporting.
Scheme Parameters

How to Apply
General Solutions
If the solution intended for claim can be found in the General Solutions List,   (404.2 KB)your solution is qualified for DAG co-funding. Please fill and submit this General Solutions application form  (255.8 KB) to fintech_office@mas.gov.sg  at the end of your funding period.
All solutions must be used for at least 6 months before the submission of your application form. Funding will be done on a reimbursement basis.
Other awards & accolades:

About Netpluz
NETPLUZ is formed by a team of highly competent infocomm professionals with more than 15 years of deep industry expertise and proven experience. Firmly believing that communications form the backbone of any business, NETPLUZ simplifies and satisfies communication needs of our clients through the delivery of high quality Managed Data, Voice, Video and Cyber Security services over a single, converged network. Backed by a strong technical support team, NETPLUZ managed services are designed and operationalized with cost efficiency and business productivity as the baseline, with uncompromising service standards. For more information on Netpluz Managed Services, contact us at contact@netpluz.asia or visit us online at www.netpluz.asia.
Media Contact:
Rueburn Liang
Senior Marketing Manager
Netpluz Asia Pte Ltd
Phone: +65 6805 8917
Email: rueburn.liang@netpluz.asia