Everything you need to know about SD-WAN: The top 3 benefits of using this next generation technology for digital transformation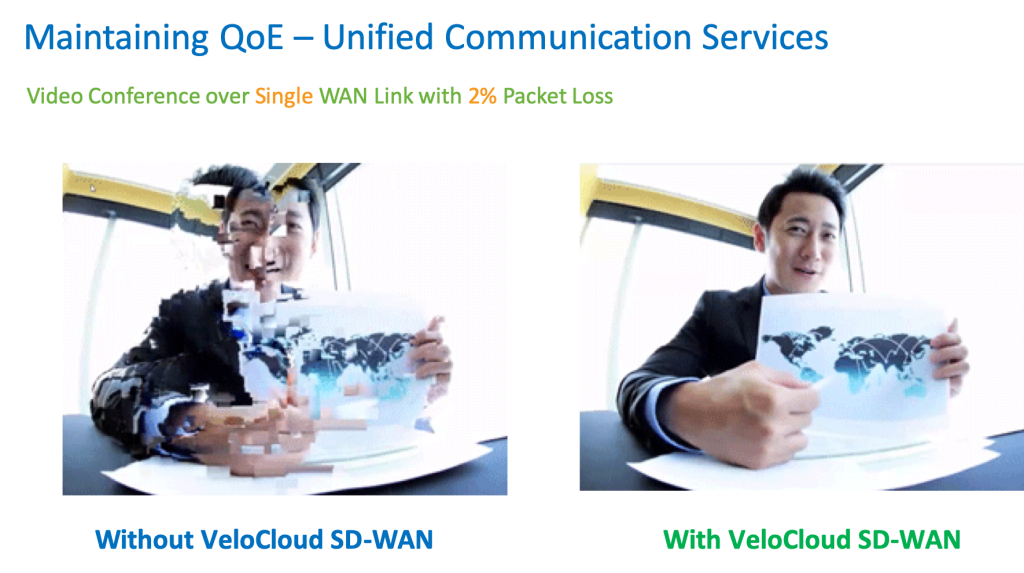 What is SD-WAN?
With businesses shifting towards the age of digital transformation, SD-Wan is emerging as the next generation of networking solutions. But what exactly is SD-WAN?
SD-WAN is a cost-effective alternative to the traditional networking technology which is used to effectively connect the network of several locations from different geographical locations. To illustrate this, think of it as the tracks that connect all the train stations. Here are some of the benefits that SD-WAN brings to the table:
Cost reduction
Better security
Minimise downtime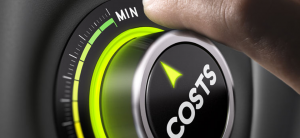 Cost reduction
Firstly, SD-Wan saves cost by preventing productivity losses. Every data packet that is sent will travel through the path of least resistance across the network. This ensures that the data will reach as quickly as possible and allows critical applications to have the best performance.
Furthermore, it also comes with prioritising capabilities – an employee browsing the Web during lunch hour will not take priority over a staff member making an important call to a business partner. The increase in performance will prevent costs from lost productivity.1
Lastly, the flexibility of SD-WAN helps save cost by allowing organisations to utilise network resources more wisely by not paying for unnecessary bandwidth. They can alter bandwidth based on their requirements without having to wait for the IT team to be physically present. The upfront costs of SD-Wan are also extremely low as there is no physical equipment required.2
To illustrate further, let's have a look at Kindred Healthcare. The healthcare company needed to create a secure zone for the prevention of corporate network traffic from interfering with their clinic's network traffic.
Due to having a small team to manage connections across 700 sites, the company started using SD-WAN and the results were mind-blowing. The company increased its bandwidth by up to 700% and saved 4 million dollars over 5 years.6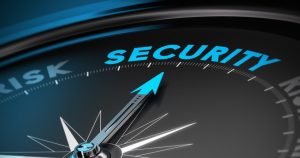 Better Security
SD-WAN improves network security through the encryption of WAN traffic as it travels from one location to another. This ensures that if a breach occurs, the network will be segmented to minimise the damage caused.3
Next, SD-WAN clearly shows the information on the amount and types of traffic on the network. This enforces better security by assisting IT administrators in detecting attacks more quickly.
Moreover, it is also easily accessible by employees and partners of the organisation without being vulnerable to cyberattacks. This comes with security features such as firewalls, intrusion prevention and URL filtering. Organisations will not have to worry about a breach in security using key software applications when they are in public areas such as coffee shops or airport lounges.4
SD-WAN is also able to integrate with a cloud web content filtering service which offers malware defenses and botnet command-and-control intervention for every branch and remote devices.5
For instance, Exxon Mobil needed an easy and secure way to connect over 10,000 locations, which ranges from retail sites, wholesalers to wholesaler branches. The switch to an SD-WAN model allowed the locations to use their broadband, 3G or 4G connectivity. All these were done with the enforcement of strict security policies, especially when it came to credit card security.
The solution Exxon Mobil needed also had to be able to deploy multiple types of networks for different purposes. SD-WAN allows each network to have its own unique set of rules, which enforces better security. Even if one network goes down or gets hacked, the other networks will not be affected.6

Minimise Downtime
The uptime of an organisation is crucial to its profitability regardless of the industry it is in. If a cloud application goes down, businesses will be unable to provide their services to customers or employees. Applications that run slowly also results in a loss of productivity.
SD-WAN minimises downtime by having a strong impact on uptime and application performance. Organisations that utilise it can achieve up to 99.99 percent or greater application availability and superior performance.
As proof, just take a look at MTD Products. The company needed a better way to bring together 6,700 employees across 70 global locations while having to handle 450 network connection points. As the company was constantly expanding, it was not feasible to run efficiently while using its current bandwidth.
Every time a failure occurred, a technician had to come to the data center to reboot the cable modem. This resulted in too much downtime and an unstable network – both crucial to the well-being and productivity of a company. Hence, the company decided to use a full dual-internet SD-WAN solution which saw an increase of over 400% in bandwidth.6
Comparison between companies providing SD-WAN
Let's take a look at some of the companies that are providing SD-WAN.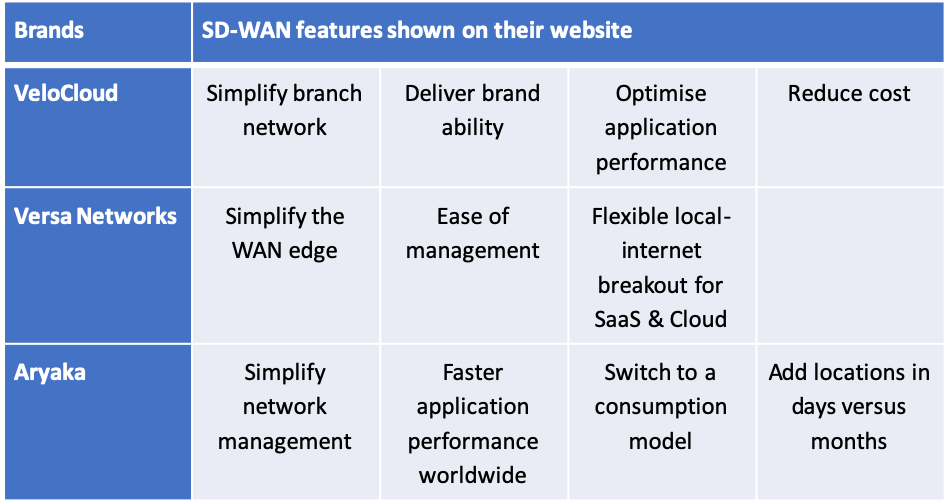 As seen from the table, the companies feature and focus on different aspects of SD-WAN. Instead of writing about the different companies, let's just focus on one of them – VeloCloud.
VeloCloud SD-WAN
VeloCloud, now part of VMware, provides managed IT services such as SD-WAN which is one of the best in the market. It has a scalable, secure cloud network which provides a secure connection through any type of transport. It also comes with a virtual service delivery that can be easily deployed. Depending on the type of service required, these can be delivered either in the cloud or through the private data centre.7
The first factor that businesses should look for if they want to implement SD-WAN should be security. Without strong security measures, important data such as personal particulars can be stolen or hacked. This is devastating for businesses and it is why VeloCloud's strong security focus is preferable for companies.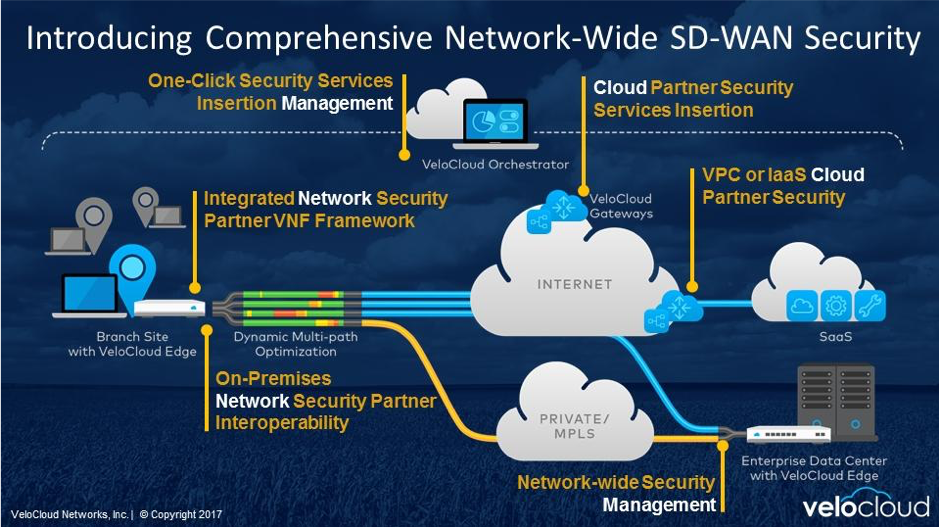 Summary
SD-WAN is the next generation of networking solutions which can reduce cost, provide better security and minimise downtime. All businesses should look to implement SD-WAN as it will be beneficial and provides convenience to their company. If you are still unsure or wish to find out more about SD-WAN, you can visit the Netpluz website to find out more either by visiting the website or booking for a free consultation. Alternatively, you may request for an appointment throught submitting your information by clicking here. 
 Download the SDWAN for Dummies Guide!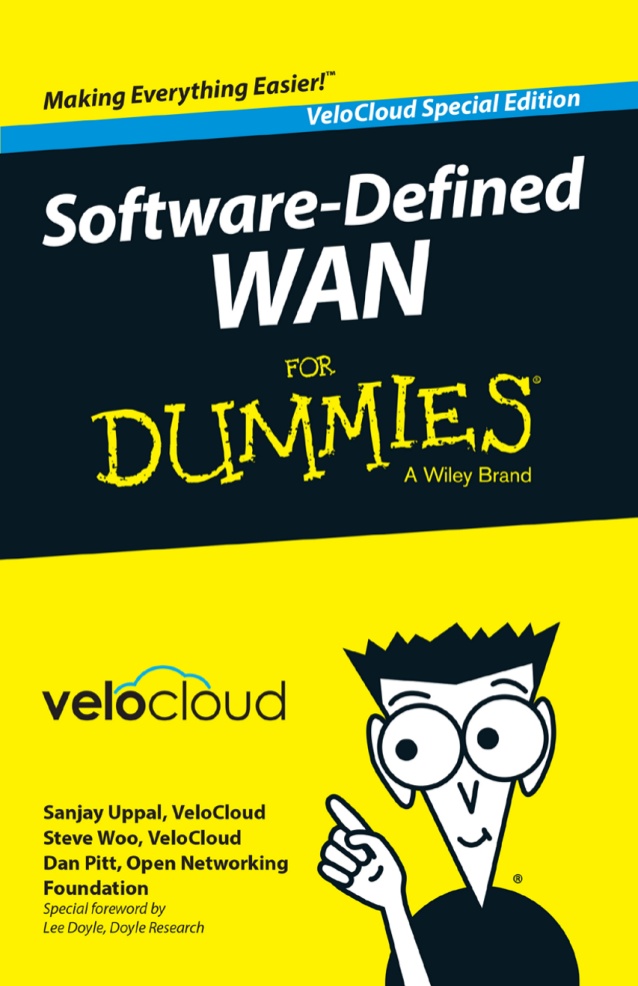 Author: Ling Kai Jie
References
Top 5 Ways SD-WAN Helps Save You Money by Talari Networks, January 09, 2018
https://www.talari.com/blog/top-5-ways-sd-wan-helps-save-you-money/
These Are the Top 5 SD-WAN Benefits by Atlantech Online
https://www.atlantech.net/blog/these-are-the-top-5-sd-wan-benefits
6 Advantages to a Software-Defined WAN Implementation by Technology Solutions That Drive Business
https://biztechmagazine.com/article/2016/12/6-advantages-software-defined-wan-implementation
SD-WAN's Benefits Extend Beyond Cost Savings by IT Infrastructure Advice, Discussion, Community – Network Computing
https://www.networkcomputing.com/networking/sd-wans-benefits-extend-beyond-cost-savings   
Four Reasons Why SD-WAN Makes Sense
https://www.sdwanresource.com/articles/419405-four-reasons-why-sd-wan-makes-sense.htm
5 Major Enterprise Brands Turning To SD-WAN Technology by Zenlayer April 25, 2019
https://www.zenlayer.com/5-major-enterprise-brands-turning-sd-wan-technology/
VMware SD-WAN by VeloCloud: Architecture by VeloCloud
https://www.velocloud.com/products/architecture