In this day and age, customers are no longer assessing shopping malls, hotels, and other businesses solely based on their products and services. With internet connectivity being an integral part of our daily life, customers view Wi-Fi access as a necessity and the lack of decent Wi-Fi connection at these commercial areas could in fact lead to poor customer satisfaction.
Based on a study conducted by Purple1, 79.5% of mobile consumers are influenced by the availability of in-store Wi-Fi when deciding where to shop.
Also, Netgear2 surveyed that one in three people travelling for leisure purposes would not return to a hotel with poor internet access. From these two studies, it is evident that the availability of Wi-Fi access is vital to the success of shopping malls and hotels.
Fortunately, with technological advancements in the current digital age, new and enhanced Wi-Fi standards are looking to revolutionise the digital market. Here's everything you need to know about the 6th Generation of Wi-Fi and why shopping malls and hotels should look to refresh their wireless Access Points.
What is Wi-Fi 6?
Also known as "802.11ax Wi-Fi", Wi-Fi 6 is the next generation of Wi-Fi technology designed to speed up connections, increase efficiency and also reduce congestion in heavy bandwidth usage scenarios.3 With the introduction of new technologies, Wi-Fi 6 was built to counteract the increasing number of devices in an area and provide better network performance when a number of devices are connected. Aside from providing good network performance, Wi-Fi 6 also provides a more secure Wi-Fi standard for users.
Main Benefits
Faster Wi-Fi Connection
With the launch of Wi-Fi 6, you can now enjoy an explosively fast Wi-Fi connection speed of 9.6 Gbps3, much faster than Wi-Fi 5 (6.9 Gbps)!  You may be wondering "What is so special about Wi-Fi 6 that it speeds up the network connection?" Well, there are 2 key technologies that complement one another to support the newly enhanced Wi-Fi 6: MU-MINO and OFDMA.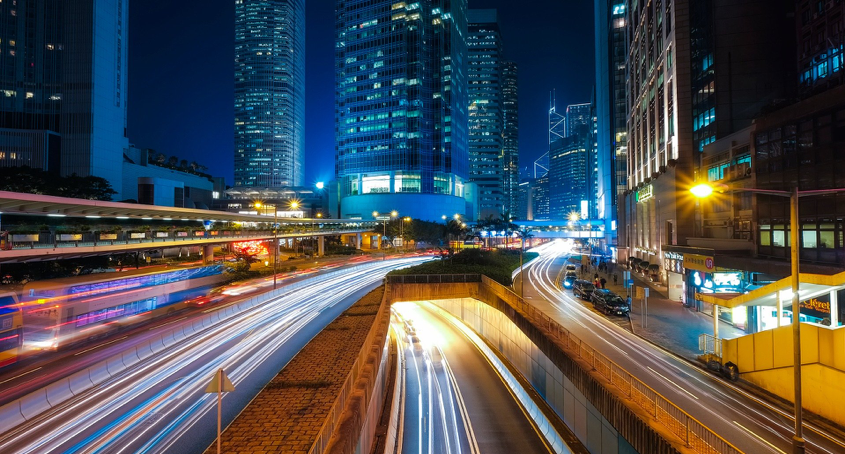 MU-MIMO, which stands for "Multi-User, Multiple-Input, Multiple-Output," is a technology that is built in current routers and devices. However, with the new Wi-Fi 6, it allows a router to connect and communicate up to eight devices simultaneously, four more than the previous (Wi-Fi 5) MU-MIMO. It increases capacity, facilitates higher speeds, and is ideal for high bandwidth usage scenarios.4
To provide you with an example, view yourself as a CEO of a small courier company. Previously, your company could only deliver parcels to 4 clients at once due to the limited number of employees. However, after you have expanded your manpower, your company now has the capacity to deliver to 8 customers at the same time. Relating this to Wi-Fi, the upgrade in the Wi-Fi's MU-MIMO allows fair distribution of bandwidth to eight devices concurrently without affecting the speed of any others.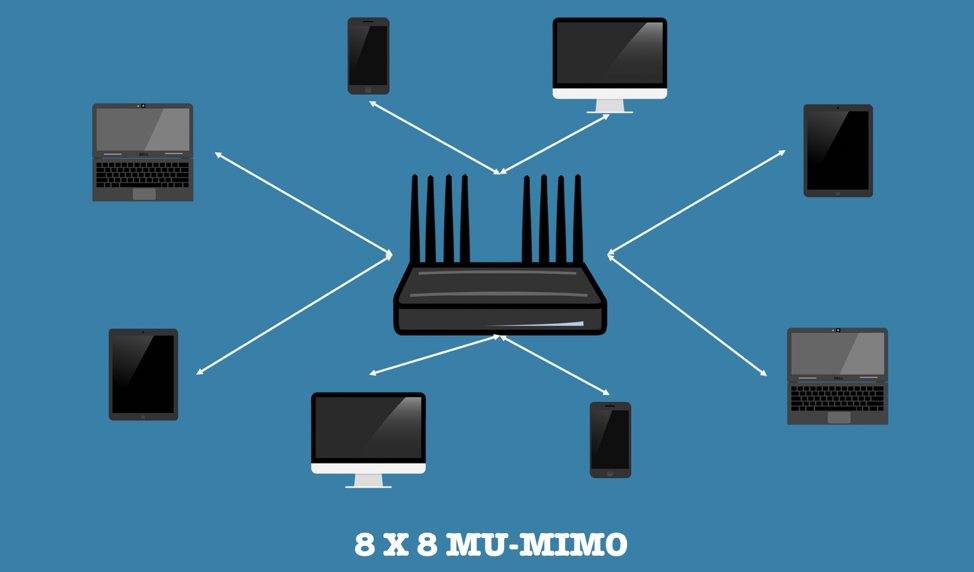 Another technology that plays a major role in the improved Wi-Fi standards is the Orthogonal Frequency-Division Multiple Access (OFDMA). This technology allows access points to serve multiple devices at the same time.5 For better stability and wider coverage, OFDMA divides its data into smaller sub carriers, and each of these sub carriers will then transmit the intended data to the respective devices.6 This helps to lower its latency which in turn, improves load times and avoid disconnections.7
Here's another example3 to help you understand better: Imagine your Wi-Fi connection as a convoy of delivery trucks delivering data parcels to your devices. Previously in Wi-Fi 5, each truck could only deliver one parcel to one device at a time. But with OFDMA, each truck can now deliver multiple packets to numerous devices at the same time and thus, increasing the efficiency and speed of completing the deliveries.

Better Security
Aside from network performance, Wi-Fi 6 provides better security for users. Cybersecurity has been a hot topic in Singapore with the various hacking experienced in recent years, one of which is the SingHealth data breach. Fortunately, Wi-Fi has been constantly updating its security and just last year, it has introduced a new security protocol called WPA3. This new protocol provides users with better encryption and authentication8, which increases the protection from password guessing attempts and also, superior security protocols for sensitive data networks9. This tightens security and makes it harder for hackers to crack passwords.10 
Here is a summary of the technologies in Wi-Fi 6, and what they can bring to the table:
Technology

Benefits

MU-MIMO

Connects Up To 8 Devices Simultaneously

OFDMA

Lower Latency; Improve Load Times

WPA3

Better Security

 

Ignores Neighboring Networks To Prevent Wi-Fi Conflict

Improves Battery Life
How will Wi-Fi 6 benefits Shopping Malls & Hotels?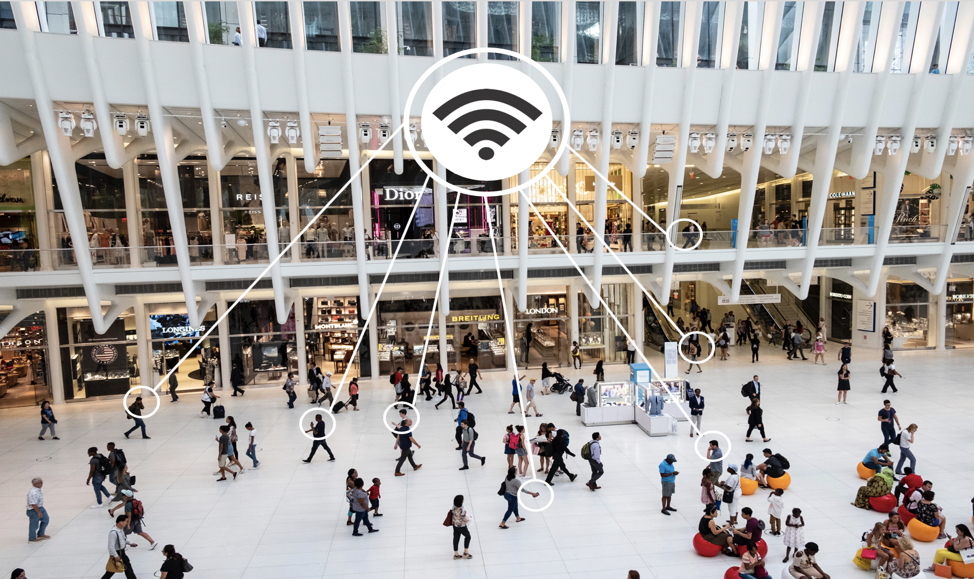 Shopping Malls
How exactly can Wi-Fi 6 benefit shopping malls in their everyday operation? With Wi-Fi 6's capability to handle more devices concurrently and provide more overall bandwidth per user without affecting the speed of any others, customers will enjoy a much smoother Wi-Fi connection to satisfy their basic need of accessing the internet even when he/she is in a crowded area.
In addition, Wi-Fi 6 helps lower latency, improves load times and avoids the risk of Wi-Fi disconnection. Imagine your shopping mall experiencing a network failure and everyone is disconnected! Businesses would not be able to operate as usual and customers would not be happy with the service disruption.
All in all, Wi-Fi 6 would definitely help improve the overall shopping experience, potentially increasing customers' satisfaction and attract new customers. Say goodbye to network congestions and cheers to fast and smooth Wi-Fi connection for your stakeholders with the next generation of Wi-Fi technology!

Hotels
According to 2015 TripAdvisor TripBarometer11, Wi-Fi is the most important in-room amenity for today's travelers. Likewise, for hotels, guests are actively seeking for Wi-Fi access to participate in online conference calls or sharing content on social media. Given that these activities are heavy in bandwidth usage, hotels should look to refresh their access points. Fortunately, the newly enhanced Wi-Fi 6 has all it takes to provide hotel guests with a better staying experience.
Despite the vast amount of connecting devices, Wi-Fi 6 is able to increase capacity, facilitate higher speeds, and is ideal for high bandwidth usage scenarios. Guests will be able to enjoy streaming videos and participate in video calls without any noticeable decrease in bandwidth quality1.
Furthermore, its new protocol increases the protection from password guessing attempts and also, superior security protocols for sensitive data networks. With the increasing public awareness of personal data theft, concerns of security and privacy are raised more frequently. Wi-Fi 6 ensures a more secured Wi-Fi network to prevent guests' video calls from being monitored or worse still, having their financial information compromised while making online purchases.11 
In summary, Wi-Fi 6 is more than capable to provide hotel guests with a much secure and enjoyable staying experience. Satisfied guests are more likely to introduce their relatives and friends to stay there. These favourable word-of-mouth would potentially bring more revenues to the brand!
Conclusion
Every business is committed in providing the best customer experience. This includes providing fast and reliable Wi-Fi connection during for consumers during their visit to shopping malls and stay in hotels. With Wi-Fi 6, businesses can now battle the increasing number of connecting devices in malls and hotels, providing customers with a better network performance even when in high demand.
Experience a much faster and well-secured Wi-Fi standard now! Feel free to contact Netpluz to learn more about Wi-Fi 6. Alternatively, you may book an appointment by submitting your information here for a free consultation.
Author: Renneth Tan Zi Jun
References
Majority Of Shoppers Say the Availability Of In-Store Wifi Influences Where They Shop
https://purple.ai/blogs/wifi-influences-where-people-shop/
W

hy Hotel Wifi Availability Is Key To Guest Satisfaction
https://socialhospitality.com/2014/08/hotel-wifi/
Wifi 6, 802.11 Ax, Fastest Wifi Routers
https://www.tp-link.com/us/wifi6/
What's the Difference Between Ofdma and Mu-mimo in 11ax?
Anisha Teckchandani
https://www.networkworld.com/article/3366216/what-s-the-difference-between-ofdma-and-mu-mimo-in-11ax.html
What is OFDMA (Orthogonal Frequency-Division Multiple Access)?
Margaret Rouse, Laura Fitzgibbons & James Bowen
https://searchnetworking.techtarget.com/definition/orthogonal-frequency-division-multiple-access-OFDMA
Wi-fi 6: What's Different, and Why It Matters
Chris Hoffman
https://www.howtogeek.com/368332/wi-fi-6-what%E2%80%99s-different-and-why-it-matters/
What is Wi-fi 6? Here's a Look At the Next Evolution Of the Wireless Standard
Tyler Lacoma
https://www.digitaltrends.com/computing/what-is-wi-fi-6/
Why Wpa3 is Necessary To Secure Wi-fi 6 / 802.11ax Networks
James Sanders
https://www.techrepublic.com/article/why-wpa3-is-necessary-to-secure-wi-fi-6-802-11ax-networks/
Security
https://www.wi-fi.org/discover-wi-fi/security
Wi-fi 6, Explained: How Fast It Really Is
Jacob Kastrenakes
https://www.theverge.com/2019/2/21/18232026/wi-fi-6-speed-explained-router-wifi-how-does-work
Why Wi-fi Is Keeping Hotels from Receiving 5 Star Reviews
Carolyn Murphy
https://www.revinate.com/blog/why-wi-fi-is-keeping-hotels-from-receiving-5-star-reviews/
WIFI MOBILITY
Benefit of Wi-Fi Mobility for Office Purpose
Having wireless interconnectivity is one of the requirements for business to stand out nowadays, as more and more people connected to digital world to find for information. Having wifi installed in office has proved to benefit the business owner and their employee when working on daily basis for their mobility.
Based on the study conducted by The Economist Intelligence Unit (IEU,) it's known that having wifi installed in office will have a positive effect on both business owner and their employee on their mobility. The study said that workers with high mobility and use their mobile technology well are typically more productive, creative, satisfied and loyal.
The 1,865 employees surveyed by IEU found that organizations that rated as pioneers with respect to mobile enablement saw 16 percent boost in their productivity, 18 percent increases in creativity, 23 percent more satisfy, and 21 percent become more loyal when compared to companies or other organizations that ranked poorly with respect to supporting mobile technology.
Mobility Within the Office
Having Wi-Fi installed in office is one way an organization can support the mobility of their employee to progress and engaged more with them. Wi-Fi in office is great for convenience as it will allow employee to work and access network resources from anywhere. For example, employee can work and access information when they are in a meeting room or any part of place in office aside from their own cubicle.
Increase Employee Productivity
When company support mobile enablement and their employee's mobility, employee become more productive because they will focus more on the assigned task regardless the location. When employee can connect to internet anywhere within the office, they can collaborate and engaged more quickly in real time. Thus, it will reduce any delays and increase more on their productivity while working.
Simpler Infrastructure
When office support wireless connection, it's simpler to organize the office layout and desk location for the employee. This become easier as the office layout won't be dictated by the cables and wires installation that sometimes is expensive to purchase and maintain overtime.
More insight through Wi-Fi Analytics in Office
Nowadays Wi-Fi is getting better with their analytics feature, such as tracking device based on location. Having such Wi-Fi installed in office, could help to conduct data and more insight about your employee for better strategic planning when designing office layout, employee attendance or to locate employee during emergency if they are still within the office or building in the event of evacuation.
Source :
https://www.networkworld.com/article/3062058/mobile-wireless/a-mobile-first-strategy-improves-employee-productivity-study-finds.html
https://www.arubanetworks.com/assets/EIUStudy.pdf
IT'S MORE THAN JUST WI-FI!
Monetizing Wi-Fi is a rapidly changing landscape. There has been a considerable shift change in consumer attitude towards Wi-Fi and in particular their willingness to pay for it. There are many reviews that shames hotel or cafe for poor Wi-Fi, and survey that show consumers will go where there is Wi-Fi. People are more and more seeing Wireless availability as just another service like water and electricity. They expect it there, they expect it free and they expect it to work well.
More retailers are looking to provide Wi-Fi to make sure that their employees and customers are always connected, to enhance their business productivity. But is there any more use of Wi-Fi aside from basic connectivity?
You may not have a Wi-Fi Marketing, Wi-Fi Monetization and/or Analytics Solution yet, but we will be happy to help give you the answers you're looking for. It's possible for free Guest Wi-Fi & Analytics to transform your business if you use it correctly.
Come 29 March 2019, Breakfast and Learn – It's More Than Just Wifi event will take place at Oakwood Premier OUE Singapore. The event will gather senior management and professionals to raise awareness, share ideas and solutions to utilize the investment you have made and turn it to the Ultimate Sales & Marketing tool to help you grow your business, increase your profitability while also enhancing users' online experiences.
Event is over. Please email contact@netpluz.asia for the next event.